Interesting web-based map viewer– very snazzy. Now only if the download was quicker.
In related news, Google acquires Keyhole: a company promising a similar 3D interface. Right now, if you google an address, Google provides links to its 2D maps from Yahoo!Maps and MapQuest. Google also provides possible address matches and map links if you type in a name, akin to what Switchboard does.
It would be better if you could click and drag on a map to limit the spatial extent for your search. Although that would clutter the clean interface of Google Local, which by the way, does show maps.
Note to self- invest in Google.
PS: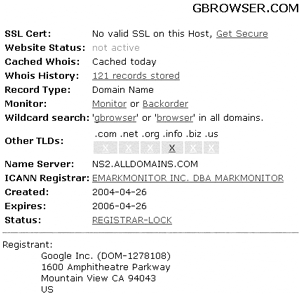 • Google acquires gbrowser.com, and moves into video search. And here's the Google Blog.
One Response to 'Map Viewer and Google'
Leave a Reply