Archive for February, 2005
Nutshell: "'Substituting tax-increase with state lottery' [Policy – Director/Manager/Planner] as a means to generate additional revenue. Here, it becomes important to first find the 'percentage of non-gamblers/gamblers/disinterested in the effected constituency' [Information – Spatial Analyst] because 'opposition to such a move is more likely to come from non-gamblers' [Theory – Planner]".
Nutshell adapted from [Skinner, B. Beyond Freedom and Dignity. 1971].
Such a policy-decision can then be supported by any of the many preferred values for its successful adoption: Religious Value- 'Scriptures say lottery is a sin, but taxing is a bigger sin. Hence…'; Nerdy Value- 'People who are weak in probability must pay for it. Hence…'; and so on.
By similarly lopsiding options and obfuscating issues, policy-makers often nudge the intellectually lethargic mass along a preferred course.
PS:
*• "There is no subjugation as perfect as the one which keeps the appearance of freedom, for in that way, it captures volition itself" [Rousseau, Jean-Jacques].
•* Political Equilibrium
* Operant Conditioning
*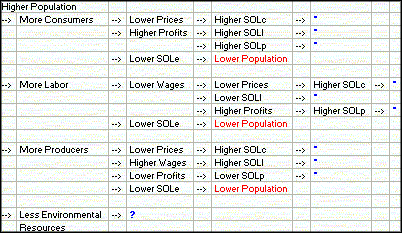 WHERE
SOL = Standard of Life
c = Consumers
l = Labor
p = Producers
e = Environmental Resources