Archive for February, 2007
This week I had the opportunity to listen to the Google Guys. Having earlier missed a similar opportunity for Jack Dangermond due to schedule conflicts, I made sure I was present at this seminar.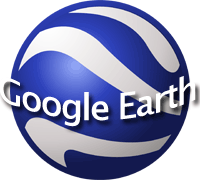 On display were the GE Enterprise solutions- Fusion, Server and Enterprise Client. With GE Enterprise, you can sign into multiple servers, grab the most accurate data from each and roll everything into one seamless experience. You may even squeeze your private globe onto a pocket-sized device and strut it out on a field. For a private domain, GE Enterprise can scale upto a healthy 250 concurrent users, or a little less than those supported by a default PostgreSQL 8.X on Windows.
One astounding statistic quoted was the vast number of users GE has been able to accumulate over its short life- approximately 200 million; reportedly many more than those by Google Maps, with nearly 80% for casual uses. And a surprising number, or so we are told, falls in the 45+ age group.
Approximations aside, here's my take:
When you try to fathom the 200 million number, you are reminded yet again how ESRI, Intergraph, MapInfo, Autodesk et al, poorly missed the globe software bandwagon. And the traditional SIS companies still do not have a clear winner when it comes to 3D buildings and surface textures, despite counting 3DS Max and Maya. All that information is what users now expect from any cutting-edge globe software.
From the looks of it and the high-end price tag of over $100,000, Google has smelled blood- the fat inside some governments; ESRI and Intergraph can attest to that. If Google succeeds in this aggressive push, the traditional SIS companies will cede further into the background on data visualization; they are anyway planted firmly in the backseat with regards to a lot of casual uses.
So when you combine this push with GE user groups, the KML offer to OGC, KML-based searches

and other enterprise solutions, then you can see why some traditions may be feeling nervous. Add to that the general perception about Google's speed-of-innovation- 'when you use a Google product, Google would innovate faster than the traditional SIS companies to support it'.
As I see it, that growing perception should be the biggest reason for the traditional industry's nervousness.
–π
Related:
• Application: PortlandMaps
• Ogle Earth
• More