Archive for April, 2007
This GCN article titled 'Geospatial and the elite: Old-school geographic information systems still dig deep on mapping and analyses' points to a tortuous debate within the traditional GIS industry, and the new industry push to remodel itself as solely an "enterprise class" industry while it continues to loose ground to an increasing domestication or democratization of GIS services.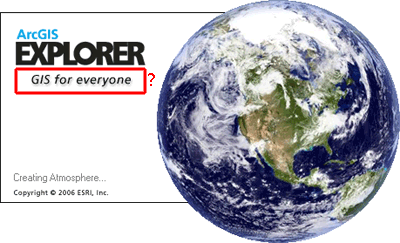 ESRI: Elitist or Commonplace?
But this new industry push is not without some strategy confusion as old-school GIS faces its mid-life identity crisis without the "cool factor" spouse.
–π
Related:
• More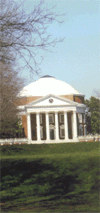 As I returned from the American Planning Association's 2007 National Planning Conference in Philadelphia, I rummaged through some past papers and chanced upon a letter.
Thomas Jefferson or William Penn?
When I look back to why I chose UVA over UPenn, the cost of living at Charlottesville v. Philadelphia, not Public Ivy v. Ivy League, proved to be the determining factor given finances. Although Charlottesville's small-town vibe didn't reconcile well with the "urban" in Urban Planning, and UVA did not play to my love of physical design (focusing more on the sociological aspects of planning that I, well, now believe to be closer to the core principles of planning), it was an enriching ride.
So, as some of you may be deciding on which offer letter to accept this fall, here is a little advice – focus on the one you really want and everything else might just fall in place.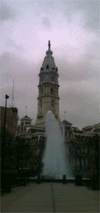 Good luck!


In the Planning Studio inside the Architecture School at UVA


In the Planning Studio inside the Architecture School at UPenn
PS: Compared to UPenn, UVA has smaller graduate programs and endowments. And it feeds the Washington DC metro's job market. UPenn, on the other hand, has a stronger focus on spatial analytics and feeds the New York metropolitan region. So spare a thought to where you would like to spend, or at least start, your professional career. A note for foreign students – UVA has a good number of, for lack of a better word, "southern aristocracy" flocking to its classes, while UPenn has a larger international student population. So stay north of the Mason-Dixon line, if you have a choice.
Related:
*• USATODAY – 'Mr. Jefferson would be proud': Charlottesville is No. 1
*• Rural Clusters and Relative Rurality:
—————————————————————————————————————-
COUNTY ST | PER CAPITA INCOME [PCI] | RELATIVE RURALITY | HOW FAR WOULD PCI GO? [2004] *
—————————————————————————————————————-
• Albemarle VA | $37,638 | 0.358 | $13,474.40
• Philadelphia PA | $29,755 | 0.037 | $1,100.935
—————————————————————————————————————-
* Roughly, the higher the Relative Rurality, the further the dollar would go
• Cities Ranked & Rated: 'The Ten Best Places to Live [2005]' and '2005 Best Places to Live'
—————————————————————————————————————-
RANK | METRO AREA
—————————————————————————————————————-
• 1 | Charlottesville VA
• 76 | Philadelphia PA-NJ
—————————————————————————————————————-
*• Frost, Robert. The Road Not Taken. http://www.poets.org/viewmedia.php/prmMID/15717
•* More
* Ways to give