Archive for the 'consumer' tag
One of the pleasures of my current job is the annual opportunity to interact with professionals from around the world, thanks to the International Visitor Leadership Program. During these interactions, I share with the visiting delegations how regional government works in the Virginias.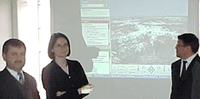 Mayoral Delegation from the Republic of Tajikistan, 2006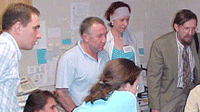 Public and Private Sector Delegation from the Russian Federation, 2005

I always end my presentation on regional governance and SIS with a quick display of Google Earth when we try to locate the remote places the delegation members come from. As can be deduced from these pictures, the members stand in rapt attention of how one private enterprise gives back to the greater common good.