Archive for the 'policy' tag
Nutshell: "'Substituting tax-increase with state lottery' [Policy – Director/Manager/Planner] as a means to generate additional revenue. Here, it becomes important to first find the 'percentage of non-gamblers/gamblers/disinterested in the effected constituency' [Information – Spatial Analyst] because 'opposition to such a move is more likely to come from non-gamblers' [Theory – Planner]".
Nutshell adapted from [Skinner, B. Beyond Freedom and Dignity. 1971].
Such a policy-decision can then be supported by any of the many preferred values for its successful adoption: Religious Value- 'Scriptures say lottery is a sin, but taxing is a bigger sin. Hence…'; Nerdy Value- 'People who are weak in probability must pay for it. Hence…'; and so on.
By similarly lopsiding options and obfuscating issues, policy-makers often nudge the intellectually lethargic mass along a preferred course.
PS:
*• "There is no subjugation as perfect as the one which keeps the appearance of freedom, for in that way, it captures volition itself" [Rousseau, Jean-Jacques].
•* Political Equilibrium
* Operant Conditioning
*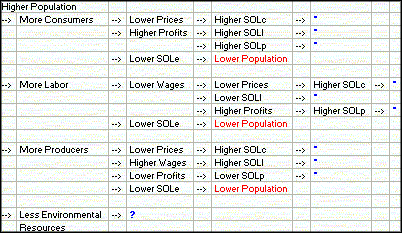 WHERE
SOL = Standard of Life
c = Consumers
l = Labor
p = Producers
e = Environmental Resources
What is the most effective method to spread the digital wave, especially of the spatial kind, in rural communities and developing countries? The following links offer some fodder, although Korea left the company of developing nations some time ago. A lot of talk has centered around the potential of wireless to bridge the digital chasm between the Knows and the Know-nots in places lacking adequate infrastructure.
• "Broadband Korea"
• "Broadband Wonderland"
• "South Korea leads the way"
More musing on this topic with time.
Related:
• Political Equilibrium